CSE All Stock Price Index Sets New Record With Strong Turnover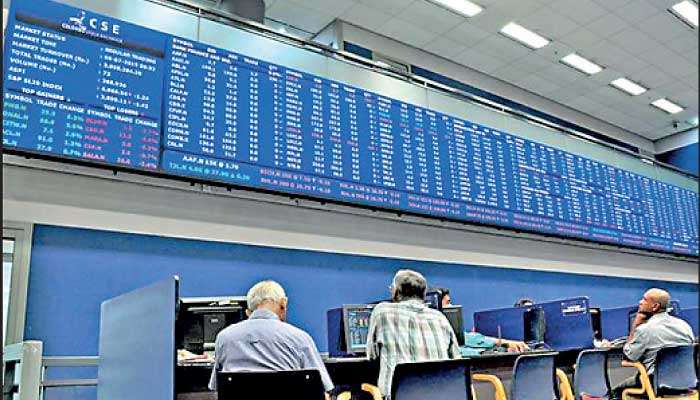 ---
The Colombo stock market set a new benchmark yesterday as investors remained bullish for the second day in a row with robust revenue although some profit taking was evident.
The All Share Price Index hit an all-time high of 9,339 points, up more than 69 points from Monday. At the start of trading, ASPI gained much higher levels touching 450. The S&P SL 20 gained 28 points or 0.8%. Turnover crossed Rs. The 6 billion mark for the second consecutive session as 263.5 million shares were traded.
Since the start of the year, the ASPI is up 37.8% and the S & PSL20 crossed the 30% mark yesterday.
First Capital said the exchange held its bullish position for a fifth straight session while posting a closing record of 9,339.
"The index started off on a positive note, hitting an intraday high of 9,453 within the first few minutes of trading. at midday. Nonetheless, the index managed to end the day in positive territory as a buying frenzy emerged towards the end, wiping out most of the losses, before closing at 9,339, "added First Capital.
He said a turnover of Rs. 6.6 billion was led by the transport sector, followed by the capital goods sector, representing a joint contribution of 51%.
Asia Securities also said the market ended in positive territory for the fifth consecutive session, with ASPI hitting a new high of 9,339.28 (+69.6) points surpassing its previous all-time high recorded earlier this month. -this.
He said revenue remained at higher levels thanks to retail activity and from HNI to EXPO as the title accounted for 33% of total revenue and extended strong increases throughout throughout the session.
"The ASPI jumped over 176 points in the open market to cross the 9,400 mark and gradually stabilized above the 9,300 level, supported by price increases in high index meters such as EXPO, LOLC, CLC and JKH. Foreign sales to JKH and GHLL were absorbed by local investors while the market scope remained positive with 101 price gains versus 94 declines, "Asia said.
He said foreigners saw a net outflow of Rs. 296 million as their stake fell to 2.5% of turnover (previous day 6%). Net foreign purchases exceeded Balangoda plantations to Rs. 3 million and net sales in JKH to Rs. 136 million.
NDB Securities said ASPI closed green due to price gains at counters such as Expolanka Holdings, LOLC Holdings and Commercial Leasing and Finance.
He said high net worth and institutional investor ownership was noted in Browns Investments, Hayleys and John Keells Holdings. Mixed interest was seen in LOLC Holdings, Commercial Leasing & Finance and Royal Ceramics, while retail interest was noted for Lanka Orix Finance, Galadari Hotels and Expolanka Holdings.
The transport sector was the largest contributor to market turnover (thanks to Expolanka Holdings) while the sector index gained 3.03%. Expolanka Holdings' share price rose by Rs. 5.75 (3.04%) to close at Rs. 195.
The capital goods sector was the second largest contributor to market turnover (thanks to John Keells Holdings) while the sector index rose 0.75%. John Keells Holdings' share price rose by Rs. 3 (2.21%) to close at Rs. 139.
Browns Investments, Lanka Orix Finance and LOLC Holdings are also among the major contributors to revenue. The Browns Investments share price gained 10 cents (1.03%) to close at Rs. 9.80. Lanka Orix Finance's share price closed at Rs. 9.70. The LOLC Holdings share price appreciated by Rs. 21.75 (3.87%) to close at Rs. 583.50.
Separately, Singer Sri Lanka and Haycarb announced their interim dividends of 30 cents and 80 cents per share, respectively.